Pregnancy Chiropractic Leeming
If you are expecting a child, it is one of the most exciting times in life. You look forward to meeting your baby. Sometimes, mums start to feel like it just can't happen soon enough. It's common to end up with aches and pains that may leave you feeling like you have a less-than-optimal pregnancy experience. If you'd like to find a non-drug healthcare option, we encourage you to see what chiropractic can do for you.
Prenatal Care is Important for Both Mother and Child
You can think of your uterus as the house that your child grows up in, protecting your baby and making sure it gets everything it needs. You may already know, but it's possible for your uterus to shift out of position. Our techniques look at your pelvis and how it may be affecting your uterus or your baby's ability to get into the correct position for birth. When your uterus is in the right position, it decreases the potential for undue stress on the infant's developing spine and nervous system.
Back pain is also incredibly common for expecting mums. You might have aches in your low back, pelvis, or be struggling with painful headaches when you're pregnant. Chiropractic is an extremely safe way to get help with conditions such as these.
Pregnancy is a vulnerable time for both Mum and child. Our goal is to make this experience an enjoyable and rewarding one.
The Potential Benefits of Pregnancy Care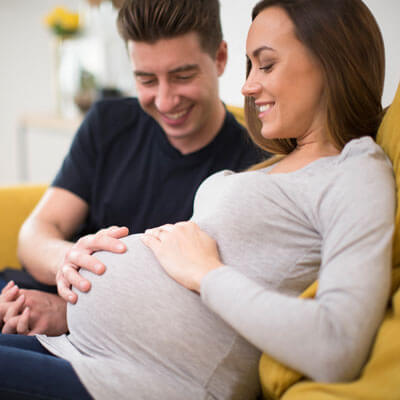 Mums-to-be may benefit from regular chiropractic adjustments through the reduction of the following symptoms:
Back pain
Constipation
General discomfort
Headaches
Pelvic imbalance
Round ligament pain
Sciatica
Trouble sleeping
We provide our expectant ladies with special pregnancy pillows during their care to help them feel more comfortable.
Frequently Asked Questions
What if I feel nervous about going to a chiropractor?
Rest assured that we start slowly. The first step is to take your health history and do a full examination, which ensures that you are a candidate for chiropractic. If you are not, we will inform you immediately. If you are, before your adjustment, we'll let you know exactly what to expect. We have a range of techniques and will make sure you are comfortable.
We are caring, gentle and understanding when it comes to people who are new to chiropractic and may be nervous about their experience with us.
What is the first visit like for pregnant patients?
The first visit process for a pregnant woman is much the same as it is for any new patient. The appointment will take about 40 minutes. When you arrive, you'll fill out some paperwork and take a quick tour of our centre. Then, your comprehensive assessment will include a consultation, computerised nerve scan studies and a range of other forms of testing. We do not take X-rays on pregnant women.
At your next visit, you'll find out the results of your examination and discuss the source of your problem. Your chiropractor will recommend a customised course of care, mapping it out all the way to your expected recovery. You'll then receive an adjustment.
How will you adjust me as my baby grows?
As your baby develops, your centre of gravity shifts thanks to the added weight to your belly. To accommodate your growing bump, we have pregnancy pillows that allow you to remain lying face-down on the adjusting table. You'll be comfortable, and your baby will be extremely safe.
At what stage during pregnancy do you recommend a pregnant woman visit you?
Women may benefit from chiropractic care at any stage. We always ensure that our care is customised to the individual. Our motivation is to help a woman have the best pregnancy and delivery possible.
Make an Appointment to See Us Today
Prenatal and paediatric chiropractic care go hand in hand. Mother and child may be protected during the pregnancy itself through optimal nerve transmission and optimal pelvic balance. An ideal birth experience may often be the result. Research shows that pregnant women under chiropractic care often have much shorter deliveries with less complications. After the birth itself, we always encourage our new moms to bring their newborn in for a quick check-up-it's a great start for Baby. Contact us today for a convenient booking and experience pregnancy care Leeming!?
CONTACT US
Pregnancy Chiropractor Leeming, Bull Creek, Winthrop, Canning Vale WA | (08) 9310 3352